Apologies for the delay in getting your monthly cRAHnicle to your inbox! It's been another busy Rotary month!
April is Maternal and Child Health Month for Rotary International. Through Rotary projects around the world, we expand access to quality care, so mothers and children everywhere can have the same opportunities for a healthy future. An estimated 5.9 million children under the age of five die each year because of malnutrition, inadequate health care, and poor sanitation — all of which can be prevented.
In 2018, Rotary After Hours in partnership with Matagalpa Rotary Club and Gundersen Global Partners raised over $51,450 with the help of a global grant from Rotary International to increase diagnosis and treatment of cervical cancer for women in the Matagalpa Region of Nicaragua. This increase in care was achieved with professionals from Gundersen providing training to local healthcare practitioners and sourcing necessary equipment. Nicaraguans look to mothers as a leader in family life. Rotary Opens Opportunities and in this case, it means providing these women the resources to prevent a deadly disease. Interested in hearing more about this past project of ours? Lisa Kobs wrote our global grant and I'm sure would be happy to share more the next time you see her.
Switching gears, many thanks to everyone who attended RAH's sHARk Tank 2021! It was a fun night! (Read more about the meeting below and stay tuned for the winner to be announced very soon!) Our plan is to host our future club meetings in a hybrid format. Locations will vary for a bit, so be sure to look for meeting notices for details. We welcome you to join us in person or virtually, whatever your comfort level and availability allows.
There is so much goodness packed into this month's cRAHnicle - don't stop reading til the very end!
(*For optimal viewing there is an option at the very top that states "Having trouble viewing this email? Click here to view it online." This will ensure no stories go left unread.)
Hope to see you all soon,
Rotary Club of La Crosse-After Hours, President 2020-2021
#RotaryOpensOpportunities
Read more...
Iiiittt's sHARk Tank Time!
Listen … yep, that sound, that DONATE TO THE ROTARY FOUNDATION ringtone. What a genius idea! Millions of Rotarian's phone rings will alert people to the opportunity and BOOM! The foundation raises more money than ever. You thought it was funny? Well, yes, Nick Ragner's mad comedic talent shines, but you wait!
What a night for a return to in-person meeting! Madeline hooked it up. The La Crescent Event Center venue was great. Our sharks were on point. The meeting was amazing. When left shark shimmied Brandon down the aisle, shaking her dorsal fin, we knew it was going to be a fun meeting.
Every single project proposal had strong merit. Lifting people up, helping out our community; these projects had common values. All are actions to be excited about. Whichever pitch wins the cash, let's keep all these ideas fresh in our minds.
Together, RAH has no limits on what we can do. Thank you to all who contributed to hosting an awesome evening. Stay tuned for the winner and be on the lookout to next month's cRAHnicle with a spotlight story on the winner of sHARk Tank 2021!
Read more...
World Immunization Week is April 24-30th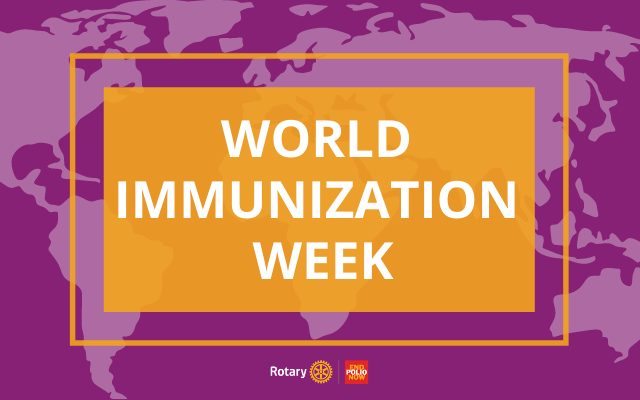 Join with Rotary to Promote the Power of Vaccines-
With decades of experience fighting polio, Rotary plays a key role in informing people about the power and effectiveness of vaccines. As COVID-19 vaccines become more available, Rotary members are using our experience in fighting polio to help communities with their vaccination education and organization efforts. And today, because we and our partners have worked so hard, wild poliovirus remains endemic in only two countries: Afghanistan and Pakistan. But to eradicate it there and to prevent a resurgence in other parts of the world, we must continue to build trust in vaccines and raise funds for polio eradication, including vaccine delivery.
Take two minutes to watch "Rotary Inspires Leaders in Global Health." In it, global health leaders like U.S. infectious disease expert Dr. Anthony Fauci, Bill & Melinda Gates Foundation Co-Chair Bill Gates, UNICEF Executive Director Henrietta H. Fore, and World Health Organization Director-General Dr. Tedros Adhanom Ghebreyesus talk about what Rotary has achieved in the fight to end polio.
Read more...
What can you buy for $3?... Not much! But you can spare a child from paralysis or death and help vaccinate them against Polio!
Pearl Street Brewery beer nerd, Marty led us on a virtual (and live in person!) tour of Pearl Street Brewery. We sampled PSB beers and Seltzer from our 6 packs, played some Beer Trivia with James and had fun virtually and with those joining in person at the Tasting Room.
With our proceeds and donations, $500 was raised to go towards our Polio Plus goal! 1500 children in Afghanistan and Pakistan will be vaccinated against the permanently crippling and potentially deadly virus. Thank you to all who attended and supported! We are "this close" to eradicating Polio thanks to your help!
Many thank to Stefanie Kline and James Murray for all the time and creativity you put into RAH's Pints for Polio!
Read more...
Stefanie Kline, you are RAH's April Rotarian of the Month!
Stefanie has been a RAHtarian for 8 years. Her job has her working into the evening hours so she isn't always able to attend our club meetings, but she's a great example of how you can still be engaged and make an impact in the club behind the scenes.
Ever wonder how our socials magically happen? As our Programs and Socials Committee Chair, Stef is the mastermind behind them. She is always looking for fun new ways to gather everyone together and have a good time. She also helps coordinate our club meeting speakers. For many years, she has also been the co-chair of our Mini Masters fundraiser, always ensuring it's a successful and fun event. Do you hear a common word? (.. FUN?) Stef knows how to plan FUN stuff!
She is also one of the most dependable and organized individuals and you can go to sleep rest assured she'll get the job done - and it will be at the highest quality!
Thank you Stef for your commitment to service above self and all that you do for Rotary After Hours! Congrats for being our RAHtarian of the Month!
Read more...
Please give a warm RAH welcome to our newest member, Courtney Garrels!
A West Salem native, Courtney Garrels heard about RAH from her good pal, Madeline Behringer. "It sounded like a fun way to get involved and find more volunteering opportunities!" says Courtney. She's come to the right place!
Courtney spends her work days selling produce to area grocery stores as a sales rep for Russ Davis Wholesale. She holds a bachelor's degree from Winona State University where she studied advertising and studio art. It's no surprise that outside of work, Courtney loves graphic design and painting. We've already hit her up to commission some art work for RAH!
Think you're seeing double? Courtney has a twin sister! If she isn't at work and you happen to be at Blue Moon, it's a good chance it's her grabbing a drink and bite to eat. If not there, she's likely at home with her pet bunny, Buddy! (She just bought a new house - Congrats Courtney!) She also enjoys hiking for all you nature enthusiasts out there wanting to meet up with her for some hiking in the bluffs.
Help make Courtney feel welcome by asking to see some of her art at the next RAH event!
Read more...
Rotary After Hours was chartered as a Rotary Club 10 years ago, in 2011
"I would not wish a year of my life away in order to be able to catch a glimpse of what the future holds for this group of young people but suffice it to say I believe that they will charter, they will function at the very highest levels of what Rotary is about: fellowship, leadership, integrity, diversity and service and that within a year this club will have over fifty members. I believe that I have looked at the face of the future of Rotary and this is it." - Dean Dickinson, Downtown Rotarian, Past D6250 Governor (& Marissa's Dad) in 2011
Have you ever wondered how our club come to be? Who started it? Are they still members?
In July of 2010, past District Governor Dean Dickinson (yes, the same guy that loves to join our club meetings!) had a conversation with a couple of young professionals here in La Crosse, including our very own, Justin Garvey! Area Rotary Clubs were struggling to attract younger members into their clubs and they wanted to know why.
They have little in common with the club members

The age spread between themselves and current members is an issue

The cost of joining an existing club is an impediment

The meeting times of most club do not work for them

They would like to network with their own generation
The area Rotaract Club at the time decided they were not interested in converting to a regular Rotary Club, so a handful of what turned out to be our founding members gathered at the end of July and discussed the possibility of forming a New Generations Club and recruiting all new members to charter the club.
The target group would be 22-32 understanding that there would be no age ceiling.
The Rotary Club of La Crosse agreed to a feasibility study and in September the group gathered again and brought friends, with 22 in attendance. In October two meetings were held and the attendance has grown to over 30 interested young people. "Once we started meeting 2 times per week in 2010, we never stopped," said Justin Garvey. They were committed to chartering as a Rotary Club when they had 36 members. The group chose their name, The Rotary Club of La Crosse-After Hours and the Rotary Club of La Crosse agreed to be our sponsoring club. "It does make the process sound a little less complicated than it felt at the time," adds Justin.
We owe a debt of gratitude to our founding members. Where would we be without their perseverance to form our club? Today we have 64 incredible individuals making up our membership. The impact RAH has had over the past decade is immeasurable. Stay tuned for more stories on RAH's founding as we celebrate our 10th birthday this year!
Picture from RAH's Chartering Dinner Celebration in 2011
Read more...
Let's Celebrate! Your Party Planning Crew is Drumming Up a Fun Night to Celebrate our 10th Birthday!
Rotary After Hours is 10 Years Old! Join Us and Help Us Celebrate!
Enjoy our 10th Birthday party at the La Crescent Event Center- on the outdoor patio or inside.
All area Rotarians and guests are welcome!
We hope many of you will join us in our celebration and learn more about RAH's accomplishments over the past 10 years.
Purchase your tickets today!
Tickets are $12 and include:
Chicken Q: ½ chicken, beans, tater salad, bun
1 Water or Soda (beer/wine available for purchase)
A drive-thru option to pick up meals is available as well.
Live Music by Tom Conrad & Entertainment
Commemorative 10 Year T-Shirts will also be available for purchase and perhaps baseball hats too! Stay tuned for more information!
5 volunteers are needed for each shift to help assemble and distribute the Chicken Q meals. Sign up at: Link
Many thanks to our 10th Birthday Committee - Ashley S., Laura L., Madeline B., Mandy N.
Read more...
The Wheels are ON Razia's BUS!
The Razia Jan's Zabuli Education Center in Afghanistan, has successfully purchased a bus for girls to be safely transported to and from school. Last year, Rotary After Hours committed $5,000 to the "Wheels of Hope" project. The $45,000 raised in partnership with area Rotary Clubs will be transformative to bringing education to girls in Afghanistan.
This school just started back in March and was able to offer transportation for students who may otherwise not be able to get to school. "We are incredibly grateful to the many, many people who were involved with the Wheels of Hope campaign and are humbled with the results you were able to achieve. When you think of all the challenges that 2020 brought and yet, somehow this campaign met its goal, enabling us to purchase a bus that is already in use and helping to bring girls to/from the school! Watch this heart warming video from the girls themselves!
A recap of Razia's story and the Wheels of Hope Project-
"Where I live, it's tradition that when a girl grows up, she doesn't go outside." In Afghanistan, girls worry every day for their safety and their lives. Many have no voice and are viewed as property of the family. The Zabuli Education Center and Razia's Ray of Hope are changing this. Under threats and dangers, Razia Jan opened the doors of the school, providing free education to girls (in the villages of duh subs, 30 miles outside of Kabul.)
Girls in Razia's school learn to write their father's name first, bringing honor to the family and shows the value of education. The Education is one of the most powerful gifts we can be given and can never be taken away once received. Graduates have gone on to be teachers, midwives, and shop owners. The alternatives for girls is forced marriage.
Razia's school needed a bus. More than half of the students live over 5 miles from school, or more than an hour walk. Many families in the villages will not allow their daughters to attend school without safe and reliable transportation. This is particularly true when their daughter's reach adolescence. Busing keeps students safe from violence and harassment on their way to school, while also making the trip to school manageable during the frigid Afghan winters, when walking miles in the snow and cold seems impossible, and during the oppressive heat of the Afghan summers. That's where we, along with area Rotary Clubs came into play.
Rotary opens opportunities. Rotary creates opportunities. Thank you for helping to give the opportunity of education to these young girls.
Read more...
The Mobile Medical Clinic is a Giant Step Closer to Hitting the Streets!
Here is the update of the project.....
Rotary International has officially approved our grant!
"Congratulations! Your global grant application for funding to provide a mobile health clinic to the community of La Crosse, Wisconsin, USA, submitted by the Rotary Club of La Crosse-After Hours and the Rotary Club of Uithuizen, has been approved by The Rotary Foundation. The award is in the amount of US$ 230,174." ~Cecelia Walter, Regional Grants Officer | Rotary Grants

That right there my friends, is the power of our Rotary Foundation! Our first $80k raised was matched nearly 3:1. Unbelievable! Our $100 average per member per year is for this very reason.
On behalf of the RAHtarians on the committee, we want to thank everyone for their investment in this project!
Bill, Josh, Lisa & Marissa
Read more...
Support Our Area Rotary Clubs at Their Upcoming Fundraiser Events
La Crosse Rotary East Drive Thru "Moms are Smart Cookies" Fundraiser - Saturday, May 8th
Onalaska Hilltopper Rotary Club's Pulled Pork Q- Thursday, May 13
Tickets on sale now for Hilltopper Rotary's Pulled Pork Q on Thursday, May 13 from 3:30pm-6pm (or until sell-out) and are $10.00 per meal.
Each meal includes Onalaska Hilltopper Rotary's award-winning pulled pork, a Fayze's Talame bun, scalloped potatoes from Mary Cody's, and creamy slaw... all served up by Rotarians... drive-thru pick-up only!
With each meal purchased, part of the proceeds will go towards the Rotary Mobile Medical Clinic.
Purchase your tickets online today. Otherwise, a limited amount will be available for walk-up.
You can pick up your meal at Dickinson Funeral Home in Onalaska (401 Main St, Onalaska, WI 54650). Look for the pink pig!
Rotary Works Foundation Golf Outing- Thursday, May 19th at Cedar Creek
The Rotary Works Foundation Golf Outing will be held on May 19th at Cedar Creek Golf Course this year! Please join us for a fun Rotary social event. For those who don't golf, there will also be a dinner-only option.
Who: Rotarians and friends
When: Wednesday, May 19th at 12:30 PM, Cocktails at 5PM, Dinner at 6PM
Where: Cedar Creek Golf Course
Valley View Rotary's Be The Brew Meister Fundraiser-
Proceeds benefit St. Clare Health Mission, Northside Elementary and Valley View Rotary
Purchase your raffle tickets from any Valley View Rotarian or at Del's Bar, Pearl Street Brewery, Fish's Bar and Grill, Genzie's Bar, Logan Bar, Neuie's Bar, and Sam's Bar or online at Valley View Rotary's website
Drawing will be Thursday, June 17th at 7pm (Need not be present to win)
Read more...
WHAT DOES THE ROTARY FOUNDATION DO WITH ITS MONEY
The Rotary Foundation spends charitable contributions on multiple programs - from the eradication of polio, to scholarships, vocational training teams, Rotary Peace Centers, and humanitarian projects. The funds are used for programs and projects Rotarians feel passionate about. With a four-star rating by Charity Navigator for twelve years in a row and 1.2 million Rotarians over-seeing the funds at a grassroots level, I have all the confidence in the world that our funds through Rotary are in amazing hands doing amazing work here and abroad.
To sign up and donate via Rotary Direct, visit: https://www.rotary.org/en/donate
Read more...